During the past century, world economic growth has depended largely on ever-expanding use of hydrocarbon energy sources: oil for transportation, coal and natural gas for electricity generation, oil and gas for agricultural production. It is no exaggeration to say that the health of the global economy currently hinges on increasing rates of production of these fuels.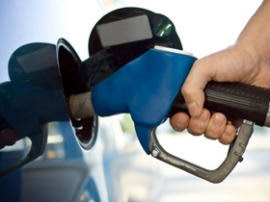 However, oil, gas, and coal are non-renewable resources that are typically extracted using the "low-hanging fruit" principle. That is, large concentrations of high-quality and easily accessed fuels tend to be depleted first. Thus, while the world is in no danger of running out of hydrocarbon energy sources anytime soon, oil, gas, and coal extraction efforts are increasingly directed toward low-quality, hard-to-produce fuels that require higher up-front investment and entail increasing environmental costs and risks.
These trends are easily demonstrated in the case of oil.
Dependency: The dependence of the world economy on oil is illustrated by the close correlation between oil price spikes and US economic recessions that has been noted by several analysts.[1]
Declining resource quality: The pace of world oil discoveries has been declining since 1964. Oilfields found during the past decade have tended to be smaller, on average, than those located decades earlier, and tend to require expensive new technologies (including horizontal drilling, deepwater drilling, and hydrofracturing) for their development. As Jeremy Gilbert, former chief petroleum engineer for BP, has put it, "The current fields we are chasing we've known about for a long time in many cases, but they were too complex, too fractured, too difficult to chase. Now our technology and understanding [are] better, which is a good thing, because these difficult fields are all that we have left."[2]
Full Article >>>
Location: Cayman Islands