Ensuring national security is the most important issue for any country, and strategies are developed and policies made towards that end.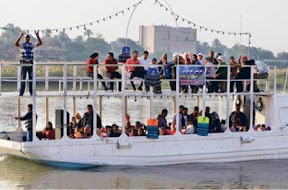 The issue of national security goes beyond the concept of safeguarding the land, skies and water of a given country to stopping the country from breaking apart and protecting it against threats to its natural resources.
Most Arab countries are considered arid because on the one hand the rates of rainfall are very low and, on the other, water resources — if they exist — are located outside their geographical boundaries.
However, over the years, this delicate issue has not received the attention it deserves.
On March 21 this year, the UN issued a report on the eve of World Water Day, about the tragic water situation in Iraq. The report said that 50 per cent of water resources are wasted in Iraq, and six million people have no access to clean water.
In the report, the UN warned that the Tigris and Euphrates rivers could completely dry up by 2040. The accelerating decline of water supplies and increasing demand threaten to bring Iraq closer to the water poverty threshold, the report cautioned.
We shall overlook the negative aspects of the report, about Iraq running out of water and the dangers to the environment of the whole region — and focus on the possibility of Iraq becoming an arid country.
The UN report failed to make clear some points, as it follows diplomatic protocols that forbid it from stating facts in a blunt manner. The real reason behind the expected water catastrophe in Iraq is the drop in the water levels at the sources of the two rivers.
Iraq suffers from drought; rainfall is low and does not exceed 200 millimetres annually at most locations, while the rainfall exceeds 600 millimetres, and at times double the amount, in the Kurdish region of the country. Hence water strategy depends mainly on the river water. However, the source of both rivers is outside the country.
More >>>
Location: Cayman Islands