Pakistan is still not sufficiently prepared to cope with flooding and other natural disasters, a year after the worst floods in its history, aid agency Oxfam has said.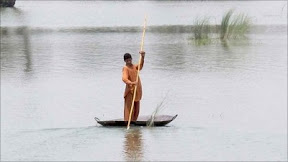 More than 1,750 people are thought to have been killed and 20 million people affected by last year's floods.
An Oxfam report expresses concern about the pace of reconstruction.
It says more than 800,000 families are still without permanent shelter as another monsoon season approaches.
The aid agency also says many people who missed the chance to plant or harvest crops are struggling to sustain themselves, with little work available and rising food prices.
"Villagers in areas that we work fear new flooding. Many are planting fewer crops than usual as they are worried that their harvests will be destroyed in fresh floods," Neva Khan, head of Oxfam in Pakistan, said.
"In some areas, where fresh flooding has already begun, families have started to dismantle their houses and move to higher ground as they are scared of losing everything again."
More >>>
Location: Islamabad