Kenya's Tana Delta is disappearing and its inhabitants evicted to make way for foreign biofuels.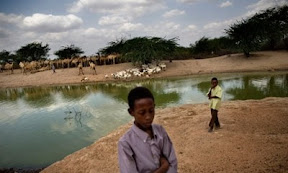 Gamba Manyatta village is empty now, weeds already roping around the few skeletal hut frames still standing. The people who were evicted took as much of their building materials as they could carry to start again and the land where their homes stood is now ploughed up.
Mohamed Abdi, 13, points out where his hut used to be. His was the last of the 427 families to leave. "They told us we would be burned out if we didn't go," he said. "They drove machinery round and round the village all day and all night to drive people out. No one understood why, as the village had been there for more than 25 years."
The eviction of the villagers to make way for a sugar cane plantation is part of a wider land grab going on in Kenya's Tana Delta that is not only pushing people off plots they have farmed for generations, stealing their water resources and raising tribal tensions that many fear will escalate into war, but also destroying a unique wetland habitat that is home to hundreds of rare and spectacular birds.
The irony is that most of the land is being taken for allegedly environmental reasons – to allow private companies to grow water-thirsty sugar cane and jatropha for the biofuels so much in demand in the west, where green legislation, designed to ease carbon dioxide emissions, is requiring they are mixed with petrol and diesel.
Full Article >>>
Location: Islamabad