Former Vice President Al Gore is going where few environmentalists – and fellow Democrats – have gone before: criticizing President Barack Obama's record on global warming.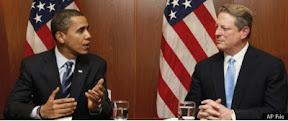 In a 7,000-word essay for Rolling Stone magazine that will be published Friday, Gore says Obama has failed to stand up for "bold action" on global warming and has made little progress on the problem since the days of Republican President George W. Bush. Bush infuriated environmentalists for resisting mandatory controls on the pollution blamed for climate change, despite overwhelming scientific evidence that the burning of fossil fuels is responsible.
While Gore credits Obama's political appointees with making hundreds of changes that have helped move the country "forward slightly" on the climate issue, and acknowledges Obama has been dealing with many other problems, he says the president "has simply not made the case for action."
More >>>
Location: Cayman Islands